Interview with Roberto Tusberti, Executive Director of Marchesini Group (Shanghai)
2017-05-16
---
From November 17 to 20, 2015, the CHINA-PHARM, China International Pharmaceutical and Cosmetics Industry Exhibition, will take place in Shanghai. Now it's CHINA-PHARM's 20th anniversary, it will be hosted with 3 other professioanl events, PacPro Asia, FoodPex and BulkPex under the umbrella of swop - the Shanghai World of Packaging. 2 months before swop, the organizers interviewed Mr. Roberto Tusberti, Executive Director of Marchesini Group (Shanghai).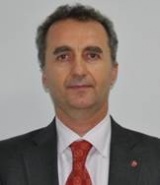 Mr. Roberto Tusberti, Executive Director of Marchesini Group (Shanghai)
1. Can you explain in a few words what your company Marchesini manufactures?
Roberto Tusberti: Marchesini Group is a leading supplier of complete packaging lines and machines, founded in 1974 in Pianoro (Bologna), where the Headquarters is still located. Marchesini's mission is to offer complete packaging lines, highly profiled for the end client: an 'on-demand' offer, customized and adapted to meet the needs of different clients. A 'tailor-made' approach for packaging line projects, focused on sales, after-sales and assistance worldwide. Marchesini's strategic intent aims at leading to results that include investing in the expansion of sales networks in order to ensure an effective coverage of global markets, strengthening its service networks to allow end-customers to take full advantage of the products, and enhancing the brand, which is synonymous of quality and excellence across the world.

Robotized integrated blister line Integra520V
2. In Asia, packaging means are on a growth course. How do you assess the chances of Italian machinery and plant manufacturers to participate in this growth?
Roberto Tusberti: Marchesini Group is an ITALIAN manufacturer, nevertheless it is used to compete mainly with German producers all around the world. The demand in the ASIAN market is for standard packaging solutions, while more mature markets (EU and USA) are trying to differentiate the way they present their products in order to be more attractive to the buyers. Considering this, Marchesini Group can use the long experienced solutions to provide quite simple and friendly user machinery, with high output in terms of number of products correctly packed.
3. In which way is your company involved in the packaging market?
Roberto Tusberti: Marchesini has evolved over the years into a Group that, through acquisitions and partnership agreements with complementary businesses of the main industry, it is able to handle the entire packaging process, up- as well as downstream, for the pharmaceutical and cosmetics industries.
Thanks to its unfailing commitment to innovation, Marchesini Group has successfully captured a leading role in Italy and internationally: today, over 87% of Group revenues are generated by exports, mainly in Europe and United States.
Most of the Group's production - approximately 85% - is devoted to the pharmaceutical industry, where Marchesini is a major point of reference, not only for multinational enterprises but also for small and medium-sized businesses companies working in generics and pharmaceutical contracting business. The remaining 15% of its production concerns the cosmetics industry, where Marchesini offers innovative andtailor-made cosmetic packaging solutions for top-level clients.
In order to effectively secure its global position, Marchesini has opened 15 offices in its main reference markets, supported by a widespread network of 30 representative offices, managing to be present in over one hundred countries worldwide.
4. Would you say we are experiencing a change in the packaging of Pharmaceutical/food products?
Roberto Tusberti: Changing means improving, it means to present the products in a better and more safety way, it means to study every customer need with an appropriate team of product managers and dedicated designers; in this way Marchesini is leading the changing in the Pharmaceutical Market because it is able to present tailor made solutions and complete packaging line, including sterile filling machines.
The majority of our customers are Multinationals Pharmaceutical Company that invest every year many resources in studying new solutions, in order to improve the safety of the products, to be more attractive for the customers and to eliminate the risk to have counterfeit products.
5. What significance do you attach to the CHINA-PHARM?
Roberto Tusberti: China-Pharm has always been an important moment for Marchesini Group. This year it will be even more important thanks to the presentation of Integra 520 Von the Chinese market, the brand new robotized integrated blister line that can deliver 520 blisters/min and 500 cartons/min. With its new pushers, a drum-type carton opener to deal with high speeds and a new leaflet pick-and-place system, Integra 520 V is the ideal solution for single-blister cartons.
Beyond the European market, the Chinese is one of the main end market for the Group, thanks to its interest in complete syringe lines, also at high speeds, to which Marchesini Group offers robotized feeders, reliable and flexible solutions for every need, from the high-customized lines to the standard ones.
6. Which interests do you pursue with your involvement in CHINA-PHARM?
Roberto Tusberti: This Year CHINA-PHARM Exhibition is held together with swop: for this reason, we do not really know how effective our presence here will be, since it is not an independent exhibition entirely dedicated to the pharmaceutical sector. As far as we know, Food and Pharma are two different worlds in terms of packaging equipment, even if sometimes some packaging solutions are used for both markets.
Marchesini machines are in the Chinese Market since almost 20 years and Marchesini Shanghai Branch Company is present in the Chinese Pharmaceutical Market with its sales managers and after sales organization selling and installing complete packaging lines, training technical engineers andprovidingspare parts through its warehouses; obviously the China-Pharm exhibition is the right showcase to prove our customers our presence and our interest in the Chinese Market, as well as our new products like the INTEGRA520V blister/cartons machine.