Interview with Kai Büntemeyer, Managing Partner of KOLBUS GmbH & Co. KG
2017-05-16
---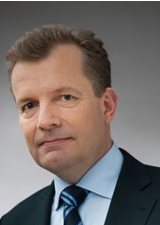 Kai Büntemeyer
"The Shanghai World of Packaging concept promises success..." ...states Kai Büntemeyer, Managing Partner of KOLBUS GmbH & Co. KG and Chairman of the Board of the Printing and Paper Technology Association within VDMA.
Mr. Büntemeyer, in which way is your company KOLBUS involved in the packaging market?
Kai Büntemeyer: We manufacture machines and systems for the production of packaging made of paper, carton and board. On the one hand, we are active in the field of luxury packaging for spirits, confectionery, jewellery and watches. In this segment, cartons are not printed and enhanced on offset printing machines but laminated with printed paper. Our second pillar in the packaging market is machines for corrugated board, which we have, to date, only manufactured and sold in North and South America. To be more precise: These are rotary die cutters and flexographic printing machines primarily used by our customers to produce carton packaging for fruit. Here, too, we provide stable cartons and elaborate graphics to a somewhat more sophisticated segment.
In Asia, the packaging market is growing. How do you assess the chances of German machinery and plant manufacturers to participate in this growth?
Büntemeyer: In the whole region, there are very interesting special fields and niches in the high-quality segment for us German manufacturers the volume of which may very well be as big as the German market. I am, however, sceptical whether we as European machinery manufacturers can keep abreast of the local suppliers in mass segments like brown corrugated board. We will have chances when the exports of Asian companies rise and therefore packaging of higher quality is needed.
How great is the importance you attach to PacPro Asia?
Büntemeyer: We think that the Shanghai World of Packaging concept with its four individual exhibitions is very good. Experience has shown that it is promising to expand the target group of originally pure machinery purchasers to the manufacturers of the packed and filled goods. We know from annually organized exhibitions with a similar orientation, like interpack in Düsseldorf, that the mixing of various interest groups inspires the discussions. I presume that we will meet many customers at PacPro Asia who also visit international exhibitions. We want to be present in the Asian market, want to get more familiar with the market and the customers. There will be visitors from the whole region. Among the exhibitors are many local machinery manufacturers – that`s good for business, and we can present ourselves to new customers.
What else do you hope to get from the cross-sector cooperation within the VDMA Packaging Forum, in addition to the joint presentation at the exhibition?
Büntemeyer: The joint presentation at this exhibition marks the beginning. Our aim is to establish a closed marketing platform for the packaging sector. I think it`s reasonable to bring together the suppliers of printing and paper technology, plastics and rubber machinery as well as food processing and packaging technology who previously acted independently of each other. We can take a common approach to market research and pre-competition research in order to make it easier for the individual company. In addition, we, as companies, can cooperate more closely in order to offer our customers turn-key solutions with modules from different suppliers. For this to work, we need to agree to harmonized interfaces for different machines and systems. The forum and its working groups offer a lot of potential.
Which interests do you pursue with your involvement in the Packaging Forum within the VDMA?
Büntemeyer: For me, it`s important that we present ourselves as the representatives of the interests of the packaging sector and get involved in the public debate on this topic – also in order to de-emotionalise it. It`s a matter of not allowing the different types of packaging to be played off against each other and of bringing forward technically correct arguments. This also includes recycling and environmental protection, and, in addition, that packaging helps ensure the hygienic transport and a longer shelf-life of food, which in turn substantially improves the food security in many regions of the world.